9. Acquisition of ISO9001 at Jujo Chemical (Thailand)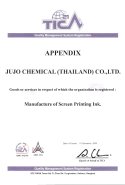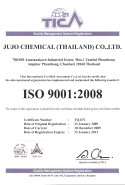 Jujo acquired ISO9001, international standard of quality assurance, at all the departments of all the office and manufacturing sites in August, 2003. Jujo Ink Co.,Ltd, Taiwan factory, acquired the same in June, 2004.
Jujo Chemical (Thailand) Co.,Ltd., our Thai factory, was certified by Thai International Certified Assessment Co.,Ltd after successfully demonstrating the conformity to the management system.
We will continue strict and careful check of the quality in the whole processes of the operations and aim to establish better quality assurance system.
We are asking our customers for continuing support and cooperation which will help us to improve our system to meet customers' demands and requests more efficiently.